Every thought i write is a fragment of my own mind ; just how mesmerised i feel every time.Having a dull moment is something we can't control , it will come and go.What we can control is How long it STAYS !
I feel deeply but sharing the depths of my heart had never been an easy task ; ohh i never had a patient ear i guess ;who would have listened to me.So me and my thoughts do the talking and we create some amazing things along the way.It's like your better half is no one else but You.

Sometimes i feel like standing exactly in between a heavy traffic junction and see the commotion while i am standing still.That's the similar commotion of my thought trails.I wanted to make things ;bring them to life and then seeing them evolve on their own.Why i feel so much ??

Sometimes i am not stone hearted.Life has to be so meaningful but these days , it doesn't seem alright.Human emotions are strong and powerful but we all are turning stones ; only a glow in this dark ; can warm this heart.

Memories turn us into what we are today , it funny i'm thinking about AI here, Artificial Intelligence. It has similar capabilities to evolve but can we code memories ?? Code memories but still we can't alter a past.There has to be something feed in the system before expecting an output from it.Can we code and recreate stories - the past ?




"The past is just a story we tell ourselves."
Powered by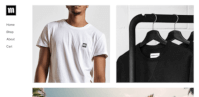 Create your own unique website with customizable templates.